Resort de Paskani

Architecture + Interior Design: agaligo studio | Engineering: Somchet Prapanbanthit

Location: Hua Hin, Prachuabkirikan, Thailand (12?31'29.70"N, 99?58'24.44"E)
Area: 522 Sq.M.
Year: 2008 - 2010
3D Artist: BWRRENDER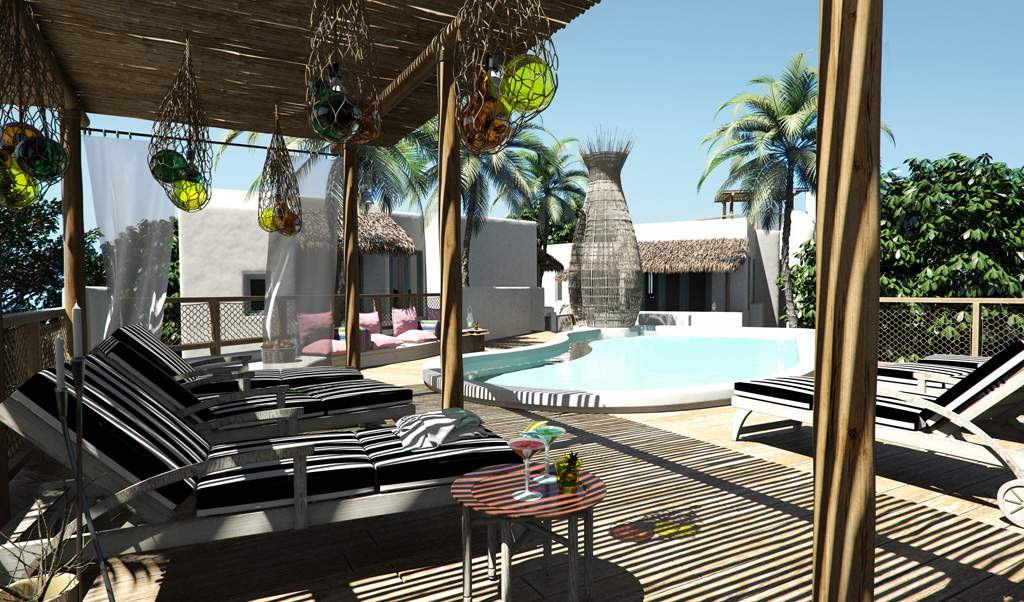 Hua Hin has become one of the most popular beach destinations in Thailand. Progressively, land price, particularly of the big plots adjacent to beaches, has soared. Most of these lands are investments of corporate developers who intend to build high-density accommodations such as multi-storey condominiums for Bangkok's holiday goers. This category of condominiums seem to bring about the fluctuating trend of the number of visitors, full load during weekends, but little to none for the rest of the weekdays. This unbalanced trend adds minimal benefit to the local community. Additionally, since small pieces of land have been neglected by corporate investors, these small pieces of unnoticeable plots are often found here and there within the town. The owner of Resort de Paskani spotted an opportunity to fill in these small plots and was inspired to energize the community with friendly developments. The idea of a small boutique resort emerged.
Situated in a small alley of the old Khao Takiab town in Hua Hin, Resort de Paskani maximizes the use of its tiny piece of land. The aim of the resort owner was for this project to bring life and vibrancy back to the Khao Takiab community. Khao Takiab, with its white, sandy, sun-kissed beach, used to be a small, charming town with houses, restaurants, shops, and galleries tucked away in small alleys. When time passed and as most visitors were drawn to other modern entertainments like themed shopping malls and amusement water parks that have mushroomed all over Hua Hin, the Khao Takiab town became more quiet. The owner, along with local entrepreneurs in Khao Takiab, thus came up with the idea to create a white-painted community. The crew believed that by giving the walls, fences, and alleys a white color, and additionally encouraging the neighbors to re-paint their homes white as well, would send a powerful message to remind the public of this long-standing, charming town. Resort de Paskani was part of this big plan, and was approved with the concept, "White Village by The Sea."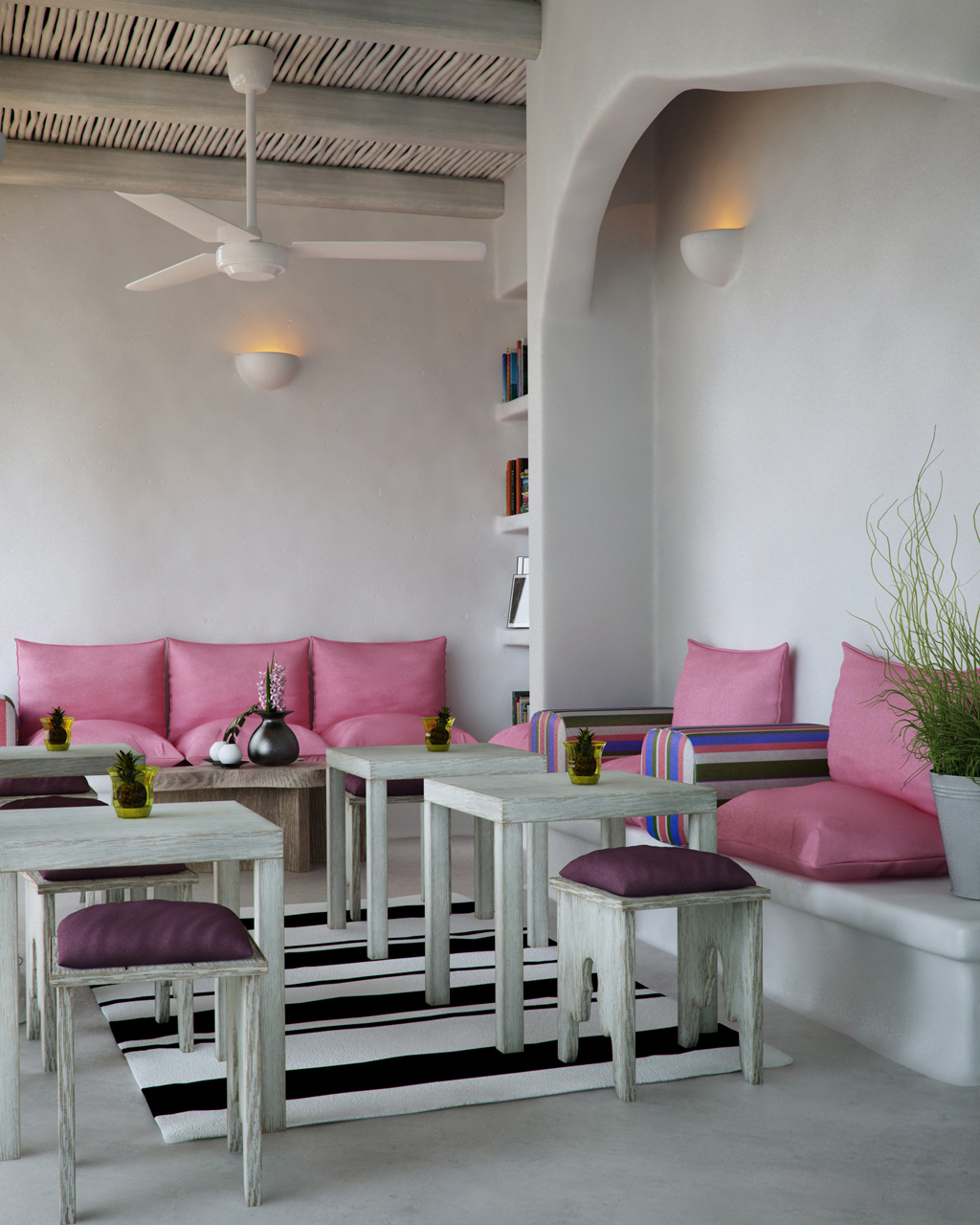 Challenging the design were the small size and the irregular shape of the given site. The resort's planning thus had to employ an organic design approach. The planning has to address three constraints: minimal usage space, budget constructions cost, and fitting a minimum of 10 accommodation rooms for the resort to feasibly sustain itself. The organic design with curves and angles allowed every nook and corners of the site to be efficiently incorporated. However, this organic design, coupled with the site's narrow alley access from the main road, obstructed the application of concrete columns and beams in the normal construction. It was inevitable to implement a wall bearing system with light-weighted, insulated concrete. This implementation facilitated logistics and allowed the raw materials to be transported using a small pick-up car rather than a multiple wheel trucker. The light-weighted, insulated concrete wall consists of inner-wired foam core. The core, which can be cut into any shape using a simple knife before the outer layer concrete is applied, makes it flexible to build a curvy wall. A freeform swimming pool with a terrace situates on top of the lobby for a grand sea view. Extra open space was derived from eliminating roofs from the second floor's corridors, allowing guests to enjoy the weather while walking up to their rooms. In addition, local materials, such as roof thatch, bamboo walls, and fishing net balustrades, were used to create a sense of place.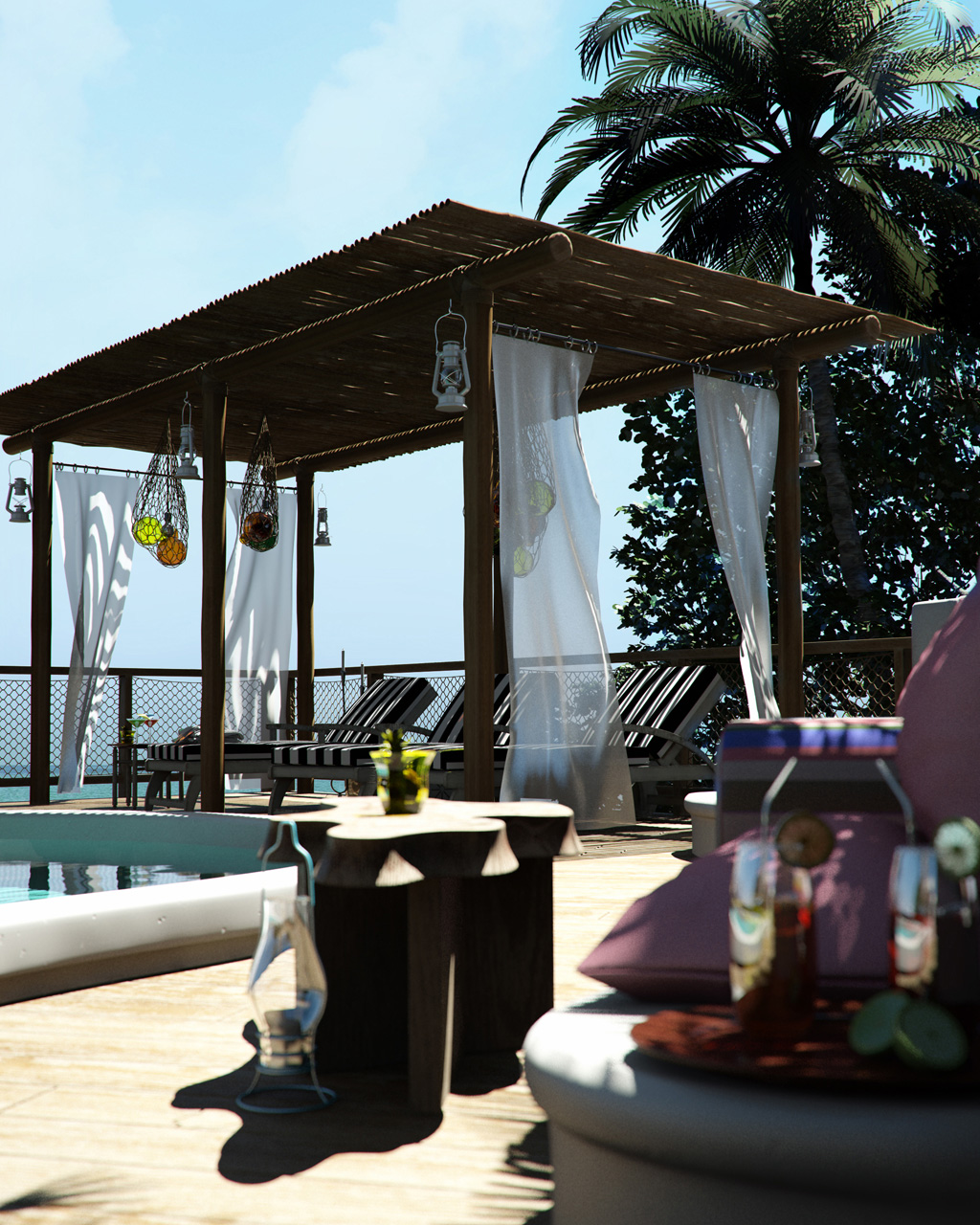 In fitting the furniture into this organic structure, they had to be customized to their specific settings, in which the light-weighted, insulated concrete enabled us to achieve that. Beds, seats, tables, counters, and shelves are all built-in with the light-weighted concrete.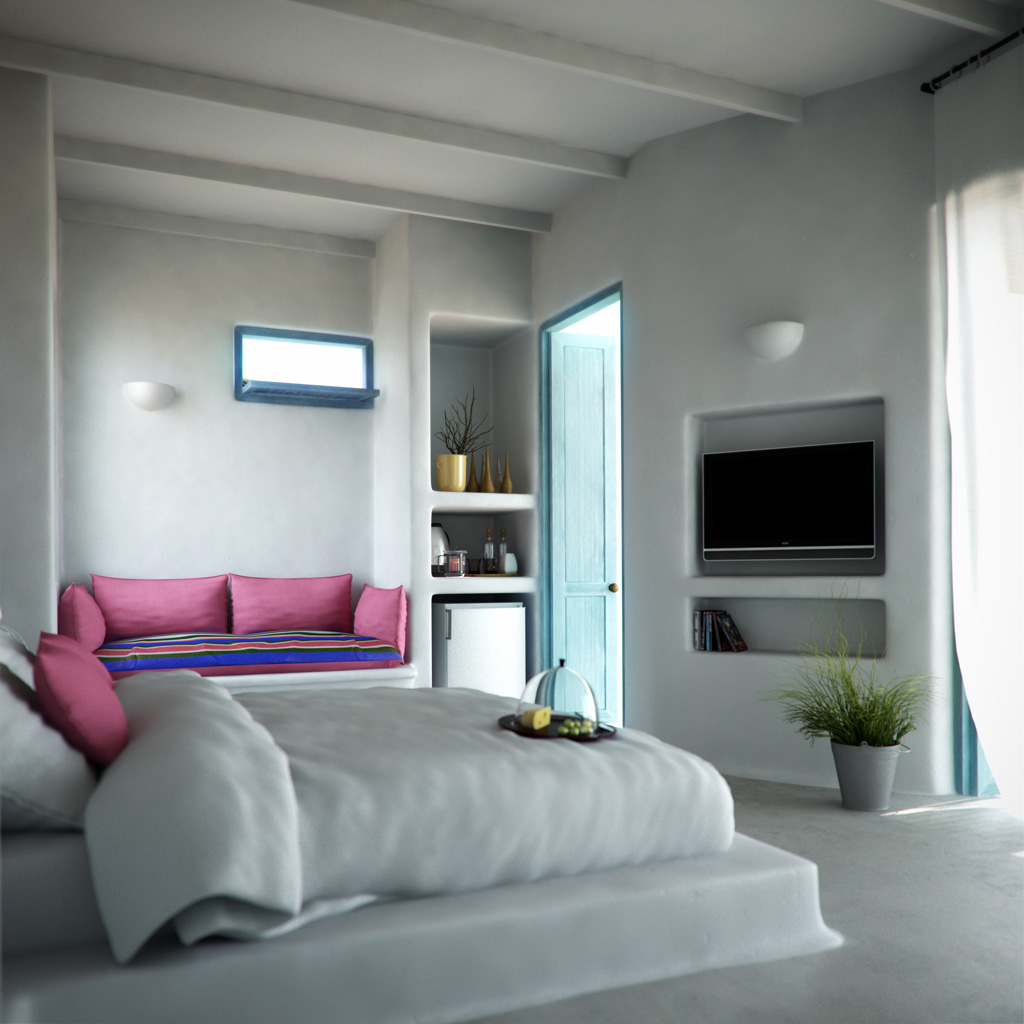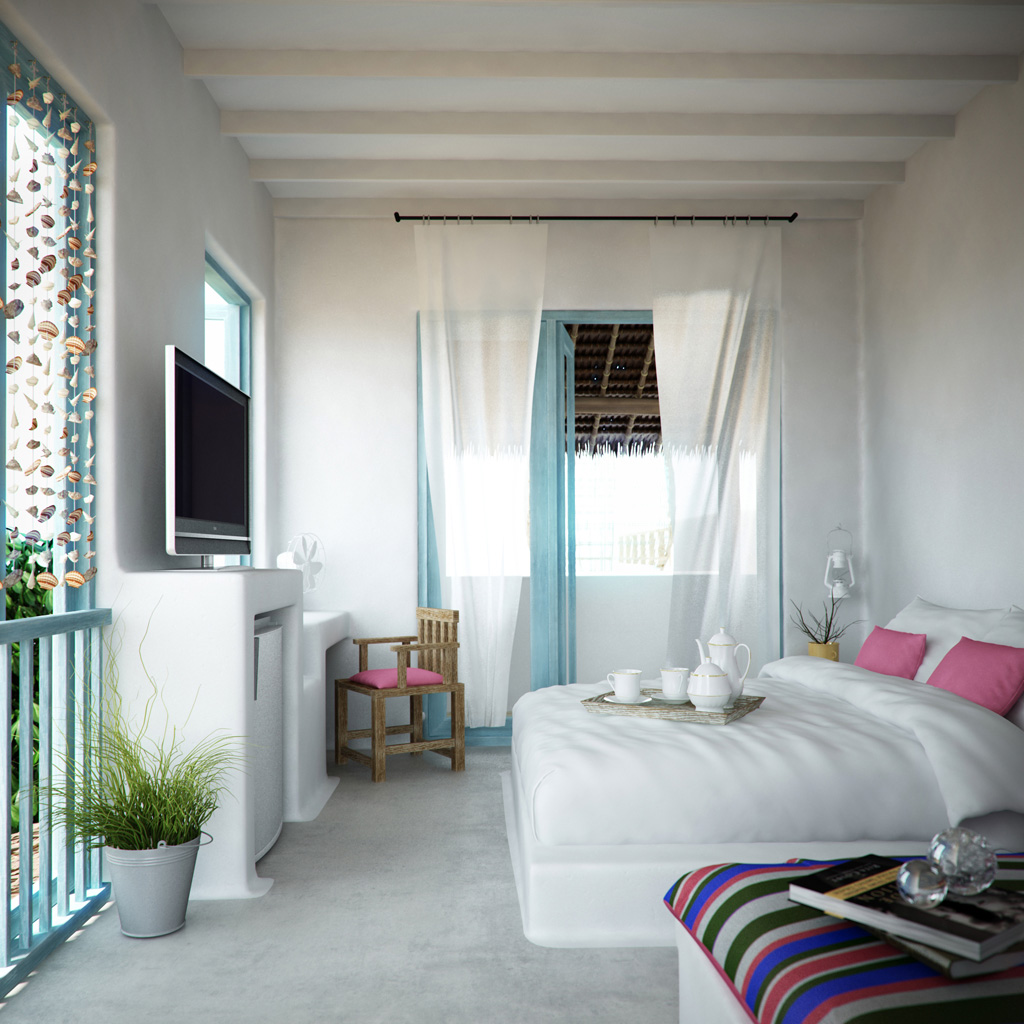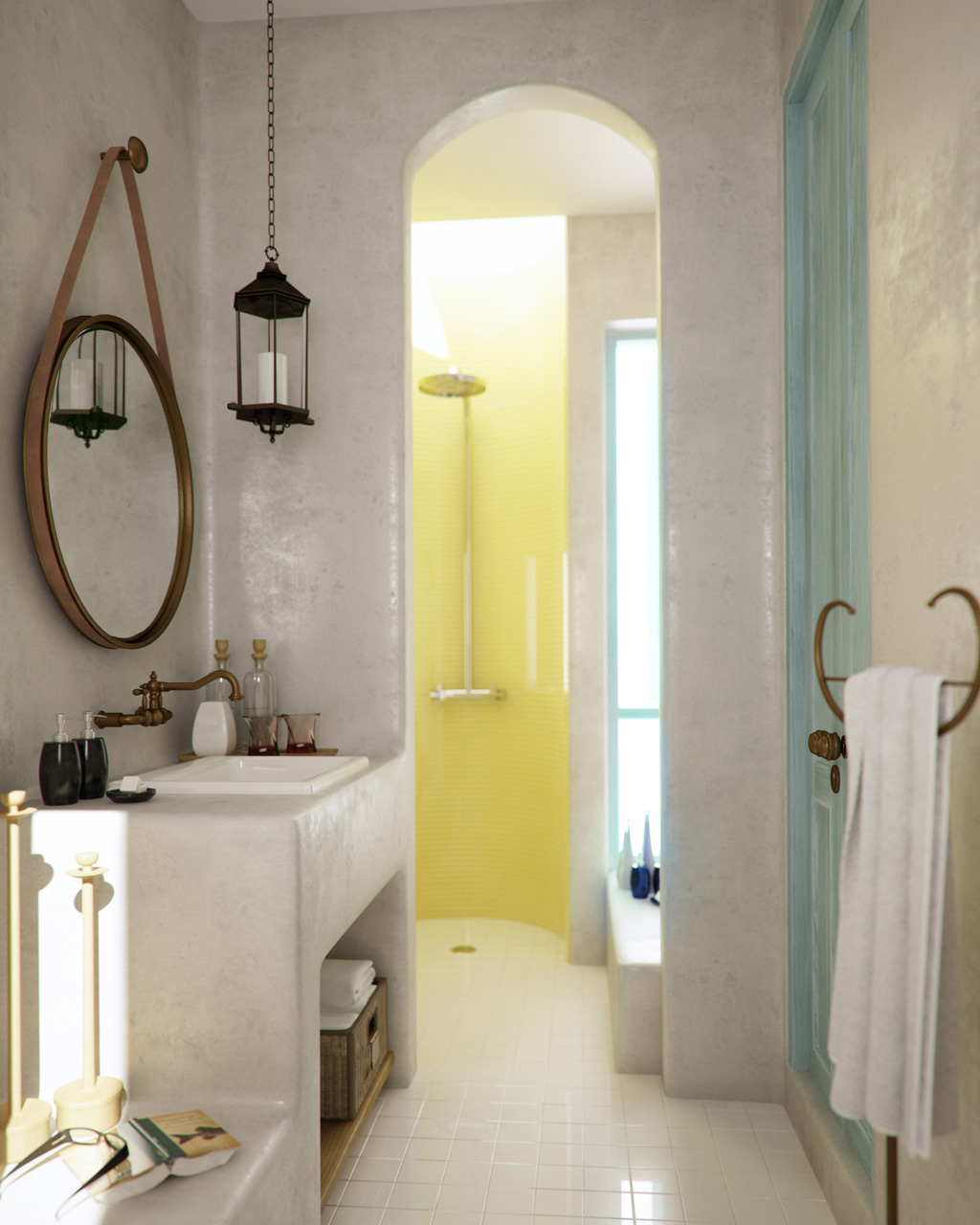 On top of that, the whole property was painted white, and apart from contributing to the White Village Concept, the buildings' light color greatly facilitates the distribution of natural light in a small and narrow environment. Created under difficult constraints but with lots of joy, the result is a unique architecture with lots of human touch.